Records Management
The Georgia Tech Records Center provides long-term secure storage for campus business and academic records whose retention is required to meet legal and/or fiscal guidelines.
Records Center
The Records Center is a 35,000 square-foot warehouse facility located near campus. The facility is equipped with a monitored alarm system, fire suppression and full climate control.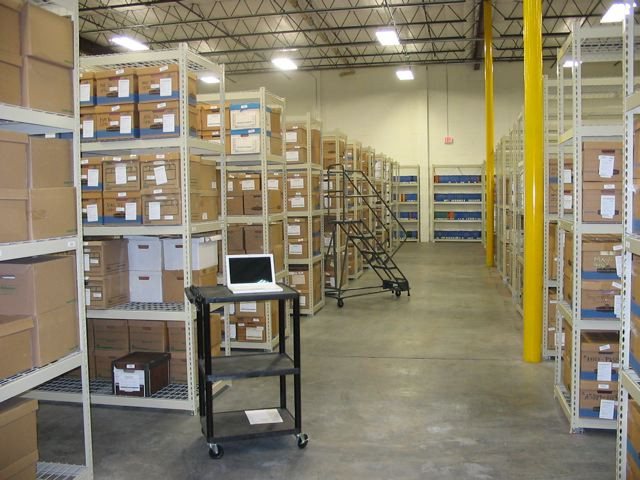 Storing your old, inactive records in the Records Center is a cost-effective means of complying with retention requirements. By systematically organizing your inactive records for transfer to the Records Center, you can free up valuable office and filing space. You can also be confident that records will be securely destroyed once they have met their retention requirements.
Storage and retrieval services are free of charge to participating campus departments.
Contact Info
 404-367-0499
  Contact Us
About the Georgia Open Records Act
As a state institution, Georgia Tech is required to adhere to the guidelines set forth in the Georgia Records Act and the Georgia Open Records Act. Retention schedules are created as a means to organize and classify records.
The Board of Regents of the University System of Georgia have created records retention schedules for university system schools. These schedules indicate the minimum amount of time institute records should be retained. Campus departments transferring records to the Records Center are asked to adhere to the Board of Regents' schedules.
As a public institution, Georgia Tech is subject to the Georgia Open Records Act. This law requires that all documents or records created and maintained by Georgia Tech, as well as those created by employees in the course of their work, be made available for public inspection upon request.
The law does exempt some personal and confidential information, such a Social Security numbers and proprietary information, from disclosure.
If your department receives an Open Records request, notify the Georgia Tech Office of Legal Affairs immediately.
What is Records Management?
Records management involves the systematic control and organization of an institution's records. A records management program is intended to insure that an institution's records are created, maintained, and ultimately disposed of in a manner that meets legal and fiscal requirements.
Why implement a records management program?
Promote efficiency in the management of the Institute's information assets and safeguard this vital information
Minimize risks associated with litigation
Ensure compliance with regulatory guidelines