Tech Library partners with renowned artist Deanna Sirlin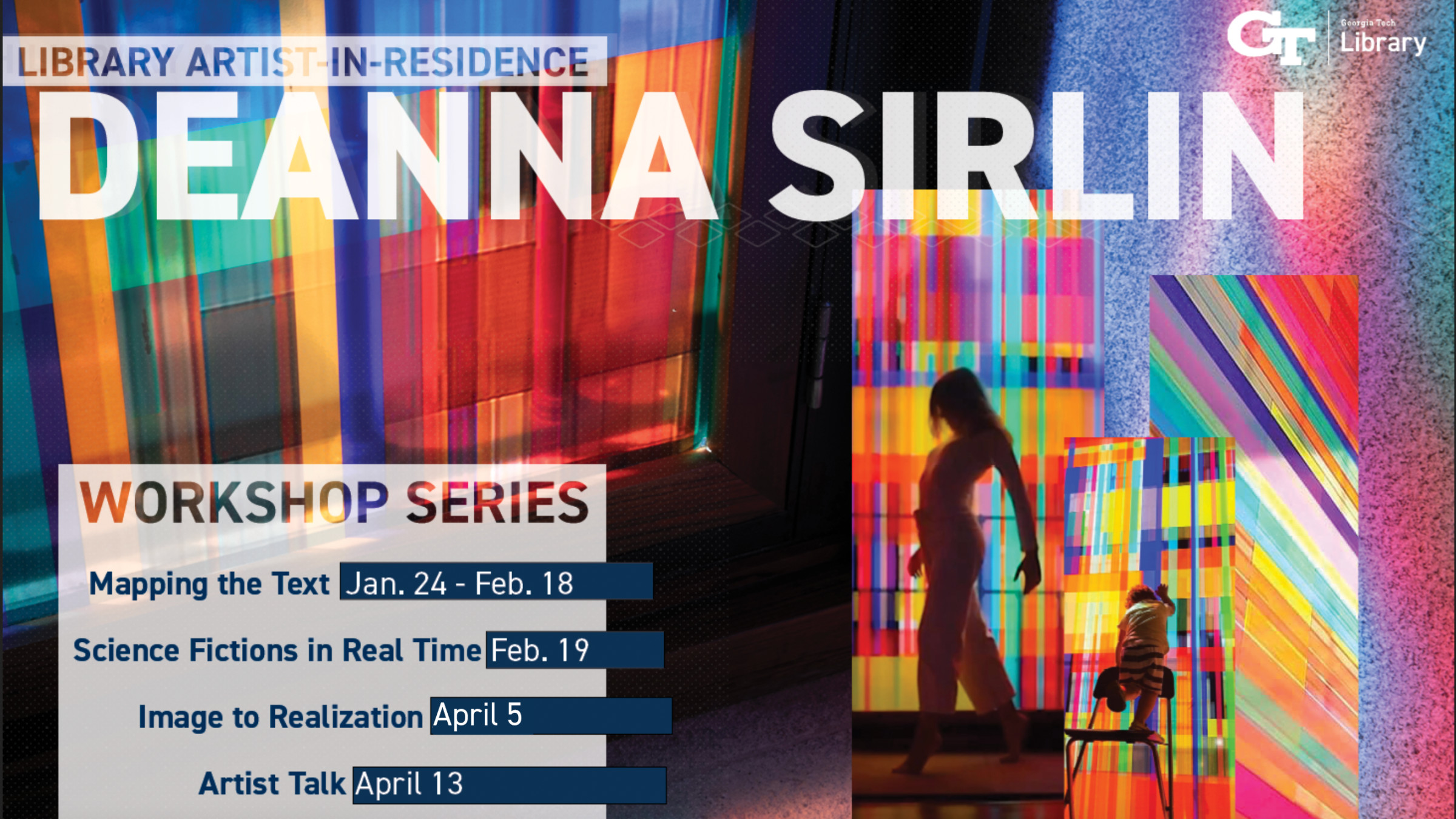 The Georgia Tech Library today announced the first partnership in its Artist-in-Residence program, tapping world-renowned, multi-media visionary Deanna Sirlin to conceptualize, plan and execute a series of student-focused workshops throughout the Spring semester.
Additionally, she will create a major artwork in dialogue with the Library's collection and new building.
"We are absolutely thrilled to kick off our Artist-in-Residence program and collaborative space with a talent of Sirlin's caliber," said Library Dean Dr. Leslie Sharp. "Tech's students have long had a passion for the arts, and we're proud to help them bring their visions to life."
Sirlin, whose work ranges from large-scale, gestural paintings, to small-scale collages, to monumental in situ installations, is perhaps best known for her 1999 installation at the High Museum of Art, Retracings.
Her idiosyncratic aesthetic —biomorphic shapes and gestural brush marks in a dynamic sea of layered, sensuous colors -- establishes a contemplative tone.
"The Library is a place of research, reflection, ideas and thought," said Sirlin. "I am looking forward to the conversations and dialogues that will occur in the process of making this artwork. I will create with the engagement of the Tech community; these interactions and having the opportunity create art are the essence of my life as an artist."
Sirlin will work with students virtually and in the Library's second-floor Artist-in-Residence (AIR) space to create work for installation.
ARTIST IN RESIDENCE WORKSHOP SERIES
Mapping the Text: Jan. 24 through Feb. 18
AIRSpace (Room 2222, Price Gilbert)
Sirlin kicks off her residency Jan. 24 with an open collaborative workshop entitled "Mapping the Text." Inspired by quotes from Frank Herbert's landmark novel Dune, the workshop acts as response to and appreciation of "50 Years of Science Fiction at Georgia Tech," a collaboration between the Library and the Literature, Media and Communication program in the Ivan Allen College of Liberal Arts.
This asynchronous drop-in workshop, open through Feb.18, allows participants to "make and take" a collage kit or stay and create their collage in the space. Once finished, they will digitally photograph the work for manipulation into a collage.
Sirlin will virtually present a short introduction to the concept of collage in the history of art, using images of work by artists from Giuseppe Arcimboldo to contemporary artists such as Julie Mehretu, Ed Ruscha, and Veja Celmins.
Science Fictions in Real Time: Feb. 19
Second Floor Classroom, Crosland Tower
Join Sirlin in this creative workshop Saturday, Feb. 19 from 1 to 4 p.m. in the Library's Crosland Tower second floor classroom to create a Utopian/Dystopian environment using Adobe Photoshop. Full information is available here.
Participants will take photo(s) with their phones of a place in Crosland Tower or the Price Gilbert Library, either looking out from or into the building. Using Photoshop, participants will learn techniques to alter the photo into a science fiction tableau.
Participants will have access to Photoshop using the in-room computers.
This workshop is open to Georgia Tech students, staff, and faculty.
Image to Realization: April 6
Second Floor Classroom, Crosland Tower
Join Sirlin in this creative workshop Thursday, April 6 from 5 to 7:30 p.m. in the Library's Price Gilbert second floor AIRspace to translate digital images into physical art. Participants will use the altered photography from the February workshop to translate the digital images into physical art. For participants who weren't able to attend the February workshop, there will be photographs available to work with. Full information is available here.
Materials will be provided for participants. 
This workshop is open to Georgia Tech students, staff, and faculty.
Artist Talk and presentation of artwork: April 13
Scholars Event Network Theater, Crosland Tower
In this final event of Sirlin's residency, she will discuss her process of working with students and reveal the art work she produced exclusively for the Georgia Tech Library.
ABOUT DEANNA SIRLIN
Sirlin received a Master of Fine Arts in Painting from Queens College, following a bachelor's degree in Art from SUNY Albany.
She has received grants and awards from the Judith Alexander Foundation; the Nexus Fund; US Artists; Georgia Chapter of The National Museum of Women in the Arts; The US State Department; and a Creative Capital Warhol Foundation award. Sirlin has had artist residencies at Yaddo; the Mark Rothko Centre, Latvia; the Cini Foundation Venice, Italy; Padies Foundation, Lempaut, France; and the City of Nuremberg, Germany. Her upcoming exhibition Borders of Light and Water will part of the 59th Venice Biennale in Italy.
To learn more about Sirlin's work, visit www.deannasirlin.com.