This fall the Georgia Tech Library will continue to celebrate 50 years of Science Fiction at the Institute with an exclusive exhibit in the first-floor gallery of Price Gilbert and a podcast series featuring science fiction authors and luminaries.

It's all in honor of Professor Irving "Bud" Foote offering one of the first accredited science fiction courses at a U.S. university in 1971.
Foote, described in his 2005 Atlanta Journal-Constitution obituary as a "French-speaking, speed-reading, book-reviewing, poetry-writing, Princeton-educated scholar," led famously freewheeling classes that were highly popular with students.
In the 50 years since Foote taught his first science fiction class at Georgia Tech, much has changed on campus. But one thing has not changed: the enthusiastic focus on the value of science fiction studies and the presence of a highly regarded faculty in science fiction, including Regents Professor Lisa Yaszek, Afrofuturism expert Susana Morris, and science fiction film scholar Ida Yoshinaga — who joined the faculty this year.
Fifty years after offering one of the first accredited science fiction courses at a U.S. university in 1971, the Ivan Allen College is home to half a dozen faculty in two schools — the School of Literature, Media, and Communication and the School of Modern Languages — with expertise in science fiction, fantasy, and horror across media and cultures. Current SciFi@Tech initiatives include the Science Fiction Minor for undergraduate students interested in studying science fiction alongside their majors; the Sci Fi Lab, where students from all majors and all levels of education can pursue independent science fiction research and production; and Hivemind, an online journal dedicated to studying and translating global science fiction.
In the 1950s and '60s, scientists and engineers were hailed as saints of progress. People believed that technology would solve all of the world's problems. But the science fiction and mainstream prognosticators of the same era also foresaw technology causing the world's imminent end: by nuclear war, overpopulation, global unemployment, environmental catastrophe ... and plague. How accurate were the futurists and science fictioneers of the last century? What predictions didn't materialize, and what visions may yet come true? And do we, today, have the ability to change tomorrow?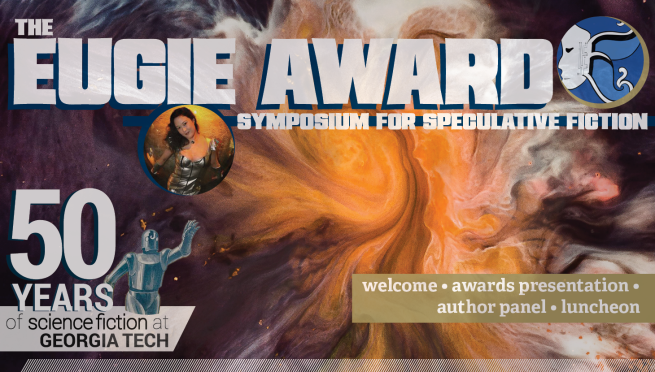 The anniversary celebration concludes on Feb. 10, 2022, with The Eugie Award Symposium for Speculative Fiction from 6 to 9 p.m.

The symposium will bring together science fiction, fantasy, and horror authors, editors, and scholars from around the world. The Eugie Foster Memorial Award for Short Fiction (or Eugie Award) honors beautiful, thoughtful, passionate stories that change both individual readers and the field of speculative fiction as a whole.
The exhibit, which opened Oct. 29 in Price Gilbert Library's first floor gallery space, is based on a series of reading and viewing recommendations made by Ivan Allen College of Liberal Arts science fiction faculty in honor of Science Fiction Day in January 2021.

The faculty members looked back 50 years to titles that appeared that year, examining offerings as diverse as the astrobiology technothriller The Andromeda Strain, the feminist manifesto "The Image of Women in Science Fiction," and the influential Japanese science fiction novel, Inter Ice Age 4, all of which appeared the same year Foote was just beginning to teach science fiction at Tech.
The exhibit is open 9 a.m. to 4 p.m. Monday through Friday. It is open until Spring Semester 2022.
Entry is free of charge. 
The celebration continues this semester and into the next with a five-part audio series New Takes on Genre. Each episode will feature Georgia Tech faculty and students finding fresh ideas in a genre of science fiction, fantasy, or horror. The series will be distributed through the library's podcast Lost in the Stacks, co-hosted by Ivan Allen College alumnus Charlie Bennett, Econ 1998, STaC 2000. New Takes on Genre will kick off with a special episode of Lost in the Stacks in early December 2021 — just before finals — and episodes will be produced throughout the Spring 2022 semester.