Media Scholarship Commons
Located on the 3rd floor of Price Gilbert, the Media Scholarship Commons (MSC) provides the campus community access to professional-level hardware and software for the creation of creative media-rich projects and research.
The space gives campus users access to reservable video and audio recording studios with control room, whisper booth, lightboard, and green screen technologies. The MSC also provides users with a reservable post-production editing room, and a computing zone with multimedia software including the Adobe Creative Suite, Final Cut Pro and Pro Tools. The space is staffed by student experts and provides services and support for poster (wide-format) printing.
Location & Hours
Due to Covid-19 restrictions the Media Scholarship Commons is CLOSED, scheduled to open
in a limited capacity January 25, 2021.

The Media Scholarship Commons spaces are located on the 3rd floor of the Library in Price Gilbert.
Video & Audio Recording Studios: Request Reservation
Editing Room: by appointment, contact Alison Valk
Multimedia Computing: CLOSED
Print Studio (Poster Printing): CLOSED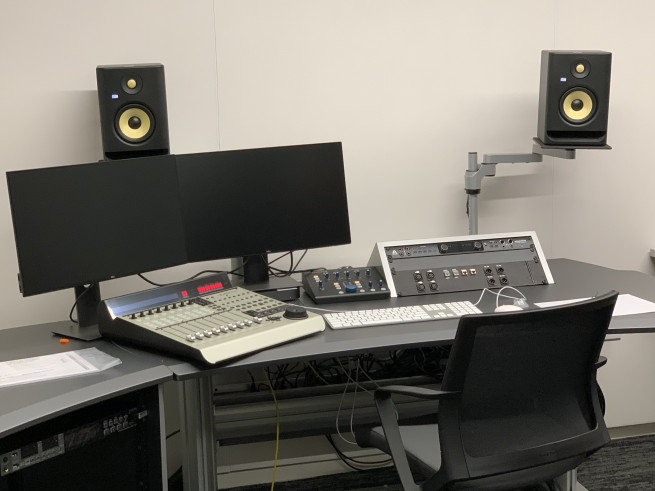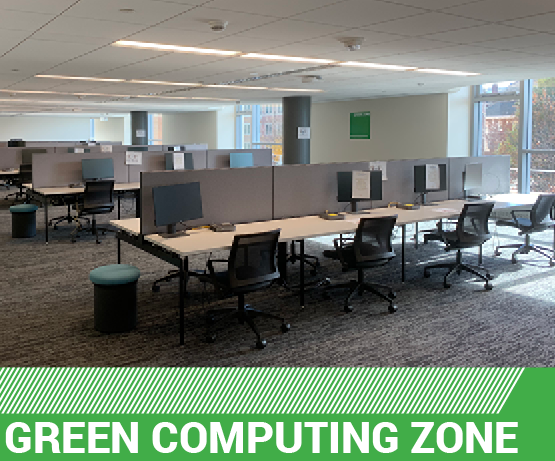 3rd floor, Price Gilbert - CLOSED
 Apple workstations, dual 24" monitors 
 Capacity = 50 (Covid Capacity = 21)
Software: Full Adobe Suite including Illustrator, InDesign, Photoshop, and Premiere Pro; Office; iMovie; GarageBand
 3rd floor, Price Gilbert - CLOSED
 Apple workstations, dual 24" monitors 
 Capacity = 8 (Covid Capacity = 1)
Software: Full Adobe Suite including Illustrator, InDesign, Photoshop, and Premiere Pro; Final Cut Pro; Office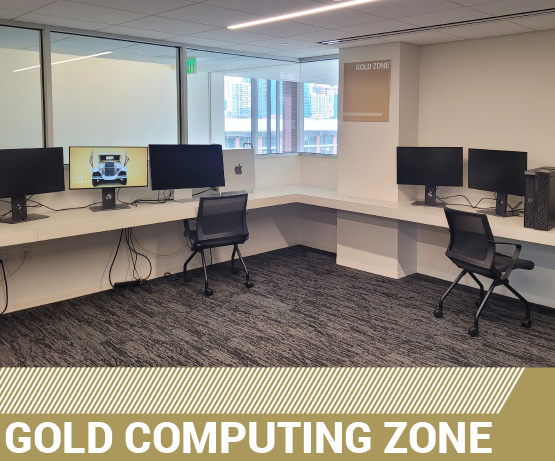 The Print Studio houses two wide-format plotters (for posters) capable of printing in 24-inch, 36-inch and 42-inch widths of any length.
All scanning (and copying) will be done on the large Xerox copier in the Multimedia Computing area. You can scan either to your email address or to a flash drive.
Standard print jobs can be done at any of the 4 locations (including the copier) on the 3rd floor. There is print station at each corner of the floor.
Poster Printing:
Cost is $1.50 per square foot. Costs formula: price = (length x width) ÷ 96.
18" x 24" poster: $4.50
24" x 36" poster: $9.00
The Video Recording Studio (3288) houses production equipment for a variety of student and faculty uses, including lecture capture, green screen presentations, interviews and live broadcast. Production features include a Vaddio RoboSHOT 12 1080p HD streaming camera, two Blackmagic 1080p broadcast cameras, Lightboard for Instruction, five Shure wireless microphones, two Rode NTG4 shotgun microphones, wireless and wired presentation capabilities via the in-room PC or your own device. You may capture to a USB flash drive or live stream your presentation to the world. One 45" LED monitor and one 55" LED monitor will allow you to view your presentation as it occurs.
The Audio Recording Studio (3286) provides a way for audio experts and novices alike to produce high-quality recordings of music, voiceovers, or podcasts. It features two Shure SM7B podcast microphones and one Audio Technica AT 4050 for vocal production, two Shure SM81 and one SM57 microphone will allow you to capture instrument recordings, and one Rode NT-USB microphone will allow you to capture any source to your own device. Production and monitoring are run through the Apogee Ensemble interface and PreSonus Monitoring station, allowing up to 30 inputs and 34 outputs with up to 24bit/192kHz resolution. While the in-room Mac includes GarageBand and Audacity software as well, Logic users can mix their tracks using the Mackie MCU control surface. Stereo recordings are saved to a user's USB flash drive via a Denon DN-700R audio recorder, or to a user's hard drive via USB transfer for future editing.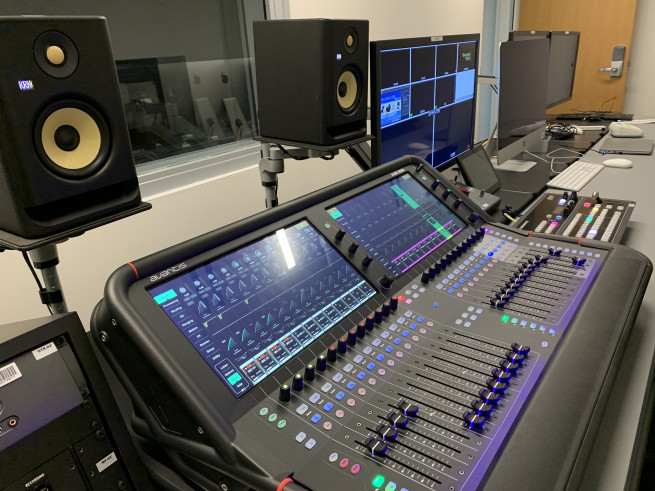 While either of these studios may be used independently, the Control Room (3287) enhances the capabilities of both spaces, allowing for additional recording, switching and broadcast capability through a 64-channel Allen and Heath Avantis digital mixer, Ross Carbonite Switcher, four 32" broadcast preview monitors, seating for six and wireless communication for production crew between spaces.