It is my pleasure to share the Georgia Tech Library's 2021 Impact Report with campus, our peer institutions, and interested parties across the globe. It tells the story of how the Library continues to serve students, faculty, and staff, both in person and virtually.
Like almost every other research institute, Georgia Tech is still adjusting to a world afflicted by the COVID-19 pandemic. We are nearly two years into this new reality, and I am happy to report we seem to have found an equilibrium in providing materials, spaces, services, and programming
In many ways, 2021 was our first return to a "normal" environment in more than six years due to renewal of the Dorothy M. Crosland Tower and Judge S. Price Gilbert Memorial Library buildings. It was not until this year that we were fully able to open all the new spaces and services.
One of our biggest accomplishments was returning 30,000 books to the buildings after about six years in cold storage. While we remain committed to keeping the majority of our collection in the Library Service Center for delivery, students and faculty alike were excited to see the Science Fiction, Popular Reading, and Core collections return to the shelves.
We also marked a record year for purchasing new electronic resource and graciously received four awards for our renovation efforts. This has been a truly fantastic year for the Library.
We believe that the Institute's Core Values of responsible stewardship and acting ethically commit the Library to providing transparent, instant access to our data. As such, you will find customizable Tableau visualizations allowing you to delve deep into our operations. You will also notice that by embedding this year's report into our website, we are able to utilize animation and video to help tell these stories. We can also link to resources to bring more detail than ever to this report.
Thank you for taking the time to read our 2021 Impact Report. Truthfully, it is quite tough to boil down the hard work of our nearly 100 Library employees into charts and graphs, or videos, or words and photos. The myriad ways they impact the lives of students, faculty and staff across campus, and the world, is an awe-inspiring thing to see every day. I am happy to report that

as the world continues to recover, we expect for things to keep getting better at the Georgia Tech Library.
2021 Spotlight: Library brings home four awards
In November, the Library announced it received multiple awards for its efforts in historic preservation, architecture and lighting design.
The Georgia Tech Library received an award for "Excellence in Sustainable Preservation" during The Georgia Trust for Historic Preservation's 44th annual Preservation Awards ceremony in Macon Saturday, Oct. 9.
Additionally, we received two awards from the American Institute of Architects (AIA), both from the South Atlantic Region and the Georgia chapters, in September and October.
In September, the Library also received the Illuminating Engineering Society of North America (IES) Merit Award for the custom chandelier design in the Crosland Tower Grove Level reading room.
By the Numbers
In accordance with the Institute's core values of being responsible stewards and acting ethically, the Library is proud to present this look at the data driving our decision making in 2021.
Below you will find interactive Tableau visualizations, allowing the reader insight into each data point for the last several years. Feel free to choose the views and visualizations you feel are most informative.
Under each visualization you will find a bit of context for the data and key takeaways for the year in review.
Physical Item Circulation
Key takeaways: Circulation
Library Item Requests: The downward trend in total lending is clear from 2016 to 2019 -- those years where the Library was under construction and all materials were in cold storage in the Library Service Center. Though construction was complete by 2020, the Covid-19 pandemic continued to suppress lending. However, now that the Core, Popular Reading and Science Fiction collections are back in the building, you can see an upward trend emerge. This is held steady by Gadgets lending -- especially keyboards and mice, available by request only due to Covid-19 -- which continues to be strong in the waning stages of the pandemic as more students are on campus.
Library Service Center Item Requests: Again, the effect of the pandemic is clear on physical lending of items from the Library Service Center. Despite bumps in heavy-use times (especially August and September 2021), Core Collection items are historically the heaviest used. This means fewer requests overall from the Library Service Center, as they are now in the building.
Library Service Center Item Delivery Time: Like virtually all other sectors of the economy, the Library Service Center has been deeply affected by the pandemic and its subsequent effect on the job market. Delivery times have suffered as a result of related personnel issues.
Interlibrary Loan: The decrease in Interlibrary Loan borrowing overall means the Library has increased the specialization of its collection for faculty and researchers. To wit, they do not need other libraries' resources. As our efforts to better understand campus' research and teaching needs bear more fruit, we expect this trend to continue.
Key Takeaways: Consultations
Despite some outlier months, consultations -- both by type and by department -- are growing over the last three years. The use of web-only consultations is an important driver of this data, as reflected below in the web chat statistics of the Reference section. The Library expects to see continued growth in these areas as it refines its subject matter expert model to more accurately reflect the changing teaching and learning needs on-campus and virtually.
Key Takeaways: Instruction
Total Classes Taught and Classes by Attendance: The lingering effects of the Covid-19 pandemic can clearly be seen in the number of courses taught by Library faculty. The primary driver behind 2021's roughly 34 percent drop in classes taught and 42 percent dip in attendance is explained by significant changes in the way the Library provides instruction. Some instructors choose to use asynchronous learning materials like video tutorials available as Canvas modules or on our YouTube page. Concurrently, teaching faculty, many of whom have adopted a hybrid model of course instruction as a method of mediating the effects of Covid-19 in their classrooms, are not requesting in-person Library instruction in their courses.
Key Takeaways: Reference
Perhaps the clearest sign of the pandemic hastening the move to virtual services is the explosion in Web Chat help, which grew a staggering 345 percent over 2020. In person help at the INFODesk, of course, shows a sharp decline in 2020, with some turnaround in 2021 as students returned to campus.
Key Takeaways: E-Resources Use
Use of electronic resources continues to climb, with a 26 percent jump in inquiries into Library provided databases. This growth can also be tied to the Library's record-breaking investments in new databases and journals.
Similarly, downloads of articles rose overall some seven percent, while e-book use increased a nominal 1.3 percent. Use of the Library's discovery layer, the Primo catalog, dropped about 20 percent. This reflects the decreasing use of physical collections, as Primo is primarily used to find and request books.
Key Takeaways: Web Usage
Another lingering effect of the pandemic -- though one expected as a trend among higher education overall -- is the increasing importance of full-service web infrastructure. In 2021, the Library saw a 21 percent growth in the use of library.gatech.edu, topping out at more than 665,000 unique page views. Presently, the Library is directing more resources and time to increase its web footprint, seeking ultimately to create true parity between the in-person and virtual experience of the Georgia Tech Library for both on-campus and virtual students.
Key Takeaways: Facilities
Gate Count and Room Reservations: Again, the lingering pandemic influences facilities use. It is interesting to note the nearly inverse relationship between gate count growth and study room use. Essentially, as students become used to a pandemic world, they are more comfortable using the large, open study spaces. In the early stages of the pandemic, gatecounts remained low for obvious reasons, but those who did come to the Library preferred to use the individual study rooms and the protection a closed door provided. This year, that relationship flipped.
In terms of raw numbers, gate count jumped more than 660 percent in 2021 as students returned to campus. Crosland Tower saw a roughly 33 percent drop in overall study room reservations. Price Gilbert, which was open only part of 2020, saw a 44 percent increase.
Our Story
Below you'll find highlights from the Georgia Tech Library's incredibly successful year. We start with books coming back to the Library then move to our Covid-19 response. From there we jump to opening the last new spaces in the refurbished Library and move on to our public programming efforts. We conclude with Archives, including our exhibits this year, and a look at how we align our portfolio management process with the Institute's Strategic Goals.
Books return to the Library
The effort began in earnest in June; by October, the Georgia Tech Library returned books to the shelves, completing the nearly six-year journey since they all moved into cold storage at the Library Service Center.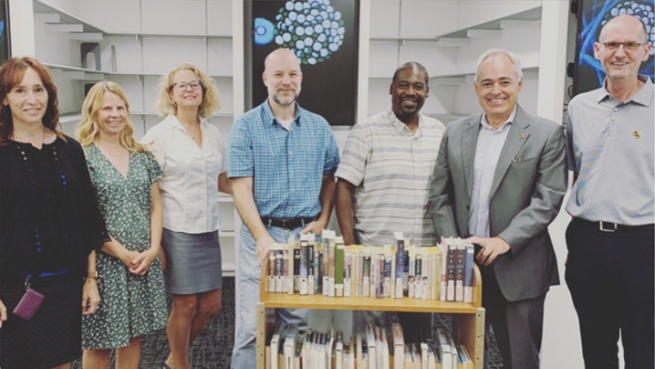 Monday, June 28 President Ángel Cabrera and Provost Steven McLaughlin helped place the first books back on the shelves of the Georgia Tech Library.
The effort to bring physical collections back to the Library after the pandemic began with the circulating science fiction collection, housed on the first floor of Crosland Tower in the Science Fiction Lounge.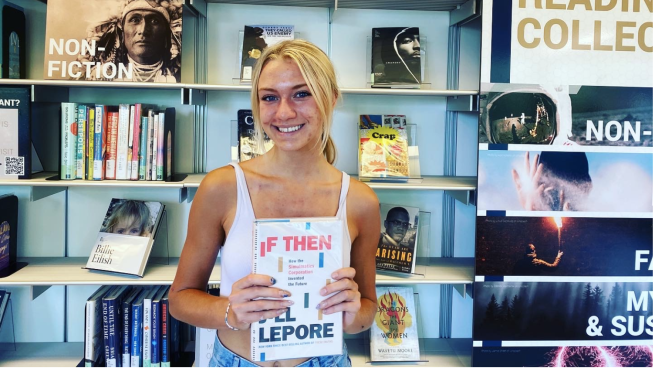 Up next was the Popular Reading Collection, shelved on the first floor of Price Gilbert. The ever-growing collection made its way back into the Library in early August, joining Course Reserves in the mounting list of services coming back online after the pandemic freeze of 2020.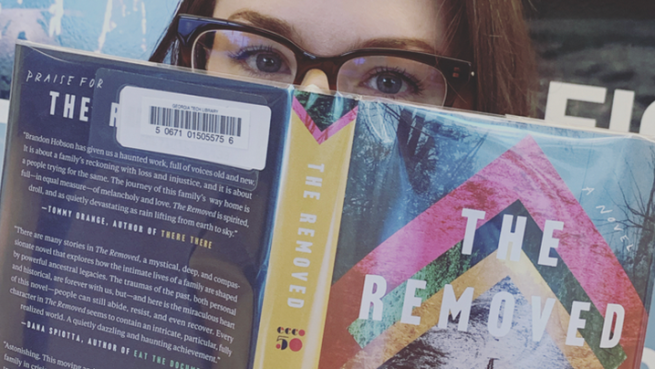 The Core Collection, those titles deemed foundational to the discipline by each school, were back in the building by mid-September, 2021. The last collections to find their way to Price Gilbert's shelves include more than 30,000 volumes in Psychology, Social Science, Architecture, Fine Arts, Literature, Science, Medicine, Engineering and Technology.
Operation Book Redux: 67 years after the great book move of 1953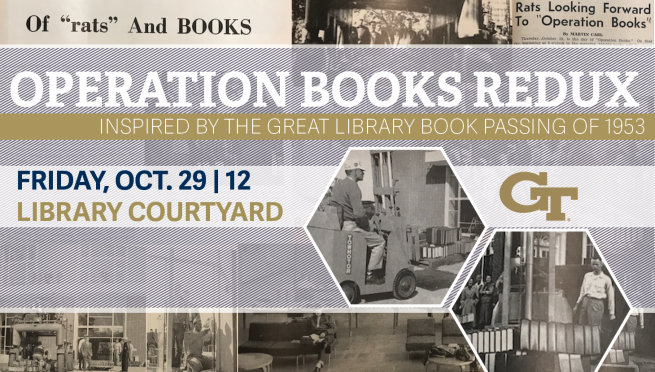 On Friday, Oct. 29, the Library celebrated the core collection moving back into the building.
It was called Operation Books Redux and was modeled after the great book passing of 1953 in which all of Tech's books were moved from the Carnegie Library to the new Judge S. Price Gilbert Memorial Library.
Operation Books Redux, held in conjunction with the Georgia Tech Alumni Association and using resources furnished exclusively by the Georgia Tech Archives, included a brief history of the original book passing from the Carnegie Building to Price Gilbert from Alumni Historian Jennifer Rogers.
It culminated with students, faculty and staff forming a human chain to move the last 53 books back onto the shelves.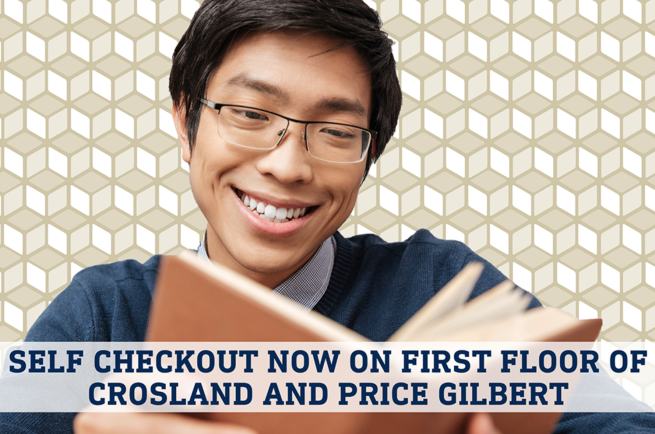 In December the Library launched a self-checkout service of physical materials for all faculty, students and staff. The kiosks, which use your BuzzCard, are located on the first floor of both Crosland Tower and Price Gilbert. Interestingly, the API and stands were all developed in house.
The Crosland Tower kiosk is located in the first floor Science Fiction Lounge. The Price Gilbert kiosks are located on either side of the first floor Popular Reading Collection.
Covid-19 Response
In response to the ongoing Covid-19 pandemic, the Library shifted services throughout the year. It began with an expansion of online chat and reference services and support for semester long laptop lending. Then, the Public Services department worked with IT to develop a system for tracking mask compliance and ensuring on-campus safety.
Over the Summer and into Fall 2021, the Library shifted service models again, preparing to welcome students back to campus for full-time study and activities while still protecting against the ongoing pandemic.
Whether front-line workers were providing information about where to get COVID-19 testing, passing out masks or sterilizing equipment, the Library remained deeply committed to meeting students' safety and information needs.
In Fall 2020, the Library acquired two UV-C chambers to disinfect equipment at a microbial level. Building modifications for this new service delayed their implementation slightly, but they were fully operational by February 2021.
The UV-C chambers allowed for all equipment offered by the Library's Gadget lending program to be sterilized between each use. Community members could circulate and use Gadgets free of fear of exposure to any communicable disease. 
We are especially grateful for the student workers who have been a key part of the Library's efforts over the last year. In 2021, student assistants were responsible for helping with mask compliance, tracking Library usage levels across its many spaces, sterilizing equipment, and serving as the backbone of the contactless pickup method for item checkouts.
Under the skilled leadership of Public Services Lead Shandra Jones, this group worked hard to make sure their fellow students were receiving the Library services they needed. 
Spotlight: New electronic resources
Throughout 2021, the Library remained committed to providing valuable new electronic resources to faculty, students and staff across a range of disciplines vital to the research and teaching efforts at Georgia Tech.
Electronic resources represent more than 99 percent of the Library's total circulation, with users downloading more than 2.4 million articles in 2021. See below for a quick breakdown of new electronic resources added to the more than 600 databases exclusively provided by the Library.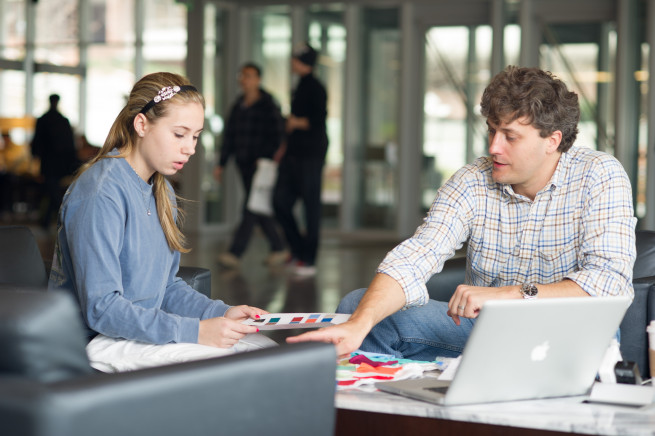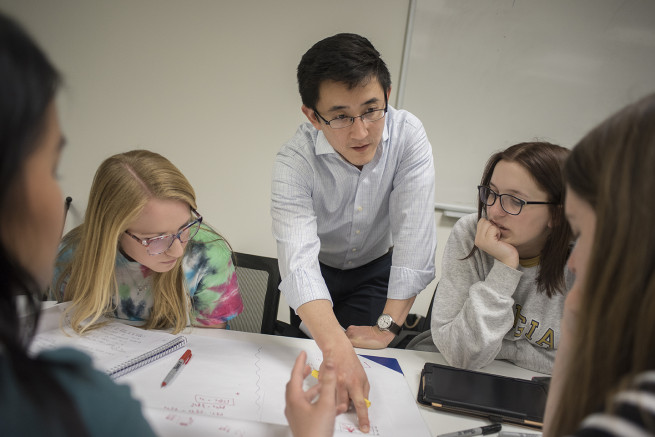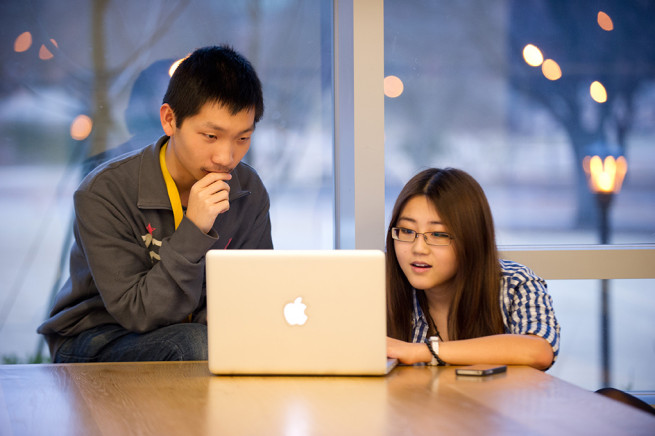 44 new Subscriptions, including:
23 Journal Archives, including: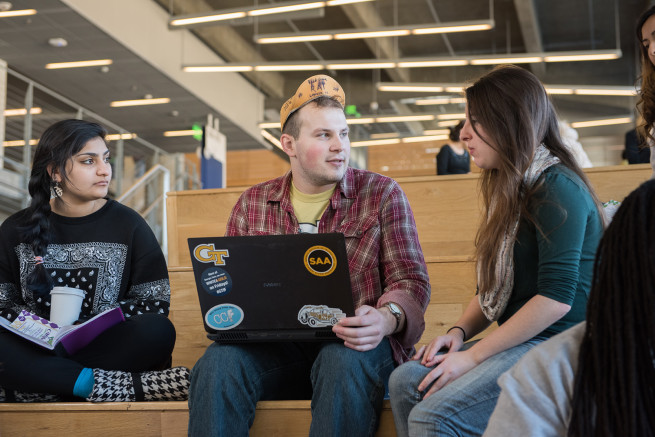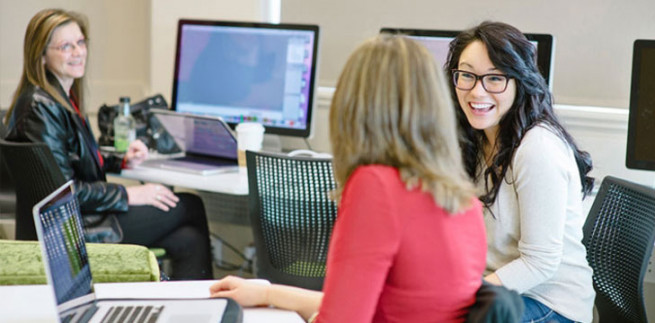 15 data and eBook Archives, including:
76 Primary source collections from Adam Matthew, ProQuest and Gale
Dissertation Defense Room, Multimedia & Teaching Studios
In Spring 2021, the Library opened the last new programmed spaces in the renovated buildings: the Teaching Studio, Dissertation Defense Room and Multimedia Scholarship Commons audio, video and editing studios.
Located on the fourth floor of Price Gilbert, the Teaching Studio is the Library's hub for the design, support, and practice of teaching. It features a self-serve recording space for practice presentations and pre-recorded lectures.
Click here to learn more about the space.
Dissertation Defense Room
The Dissertation Defense Room, located on the 4th floor of Price Gilbert in room 4222, is a space where PhD candidates can host, defend, stream, and record dissertations.

Click here to see full information on the space, including technology, how to reserve the space, and frequently asked questions.
Located on the third floor in the Price Gilbert building, the Multimedia Scholarship Commons' recording studios provide campus access to professional-level hardware and software for the creation of creative, media-rich projects and research.
Click here to learn more.
Spotlight: Biggest RATS Night ever
Wednesday, Aug. 18 from 7 to 10 p.m. more first-year students than ever (nearly 1,400) took over the Georgia Tech Library for a late night of fun filled with snacks, video games, trivia, arts and crafts and free giveaways.
The event included free shirts, fan-favorite cotton candy and popcorn and popular menu items from Blue Donkey and Kaldi's Coffee.

Students participated in team trivia (with prizes), board and video games, personalized posters and custom videos in the Multimedia Scholarship Commons and hands-on paper arts activities.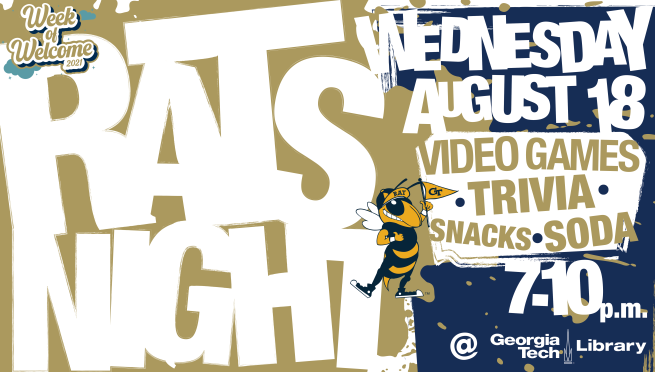 Public Programming
The Georgia Tech Library continues to provide programming for audiences in our own campus community and across the globe. Virtual programming has allowed us to expand our reach, and we have simultaneously designed programming to activate the spaces, services and collections in our library.
We champion scholarship and innovation that moves our campus and scholarly communities forward by hosting thought leaders and authors for scholarly programming.
Examples include April's Design Justice: Community-led Practices to Build the Worlds We Need, a book talk by author Sasha Costanza-Chock, March's Mapping how Science may contribute to the UN Sustainable Development Goals with Dr. Ismael Rafols, and September's Economic Mobility as a Tool for a Sustainable Future with Raphael Bostic, President of the Federal Reserve Bank of Atlanta.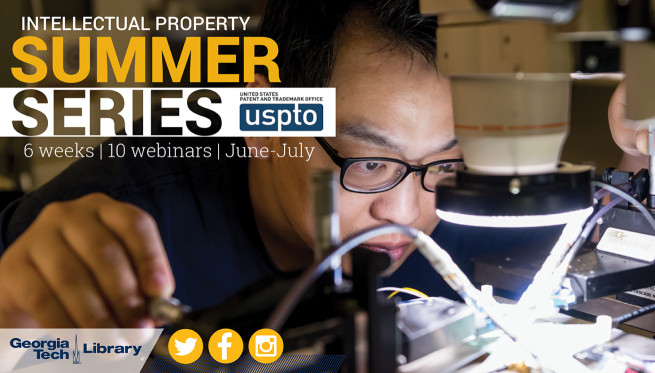 We share our wealth of resources with our local communities through partnerships with various federal, state and local government agencies and non-profits.
Examples include this summer's United States Patent and Trademark Office (USPTO) workshop series, September's Fulton County public library card drive, and October's  Atlanta Celebrates Photography festival lecture with Georgia State professor Jeremy Bolen.
We amplify our special collections and exhibitions though aligned programming that showcase our world renowned collections and the scholarship that they inspire.
Examples include February's Rare Book Spotlight on Newton's Principia and Opticks and October's lecture on "What Science Fiction Got Wrong...and Right! (and how you make the future)" with Gideon Marcus.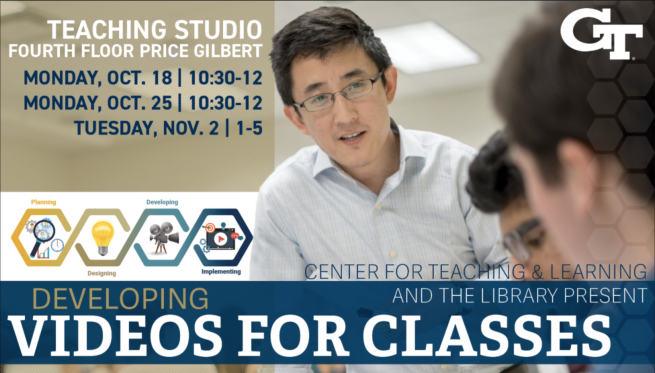 We connect with our campus community by providing opportunities to learn about and engage with our library resources at Georgia Tech and our partner systems.
Examples include our collaboration with the Center for Teaching and Learning to help produce video lectures in October and November and the virtual Public Library Card Drive with Fulton County Public Libraries.
Spotlight: Week of Welcome 2021
For the first time, in August 2021 the Library hosted nine Week of Welcome events for faculty, students and their parents to celebrate the return of students to campus. Options included Georgia Tech Football 101, coffee and pastries at the Library, a look inside the Archives' vault, technology and study spaces tours, an introduction to Library resources and taking professional head shots.
Exhibits
This year the Georgia Tech Library undertook its most ambitious slate of exhibits yet in the Judge S. Price Gilbert Memorial Library first floor gallery and Archives exhibit space. They included a look back to the founder of Industrial Design at Tech, a groundbreaking professor's work in recognizing science fiction as a legitimate genre worthy of scholarly examination, and the history of Black matriculation at the Institute.
Hin Brededieck: From Aurich to Atlanta
The Library's Spring 2021 exhibit featured the Archives' collection of artifacts, documents and drawings related to Hin Bredendieck, a graduate of the prestigious Bauhaus School of Design and founder of the Industrial Design program at Georgia Tech. 
An international collaboration leveraging the curatorial expertise of the Landesmuseum of Oldenburg, Germany, the exhibit also featured the support of Atlanta-based Halle Foundation for development and design.
Through the Library's programming efforts, including online curator's talks, we promoted interest in our Special Collections materials and garnered additional support of Georgia Tech alumni for student scholarship in the School of Industrial Design.
50 Years of Science Fiction at Georgia Tech
For our Fall 2021 exhibit, the Library's curatorial team collaborated with scholars in the School of Literature, Media and Communications to develop an exhibit based on their reflections on the state of Science Fiction in 1971. That was the year Irving "Bud" Foote created the first science fiction class at Georgia Tech, one of the first such accredited courses in the country.
The exhibit featured a wide selection of materials from the Archives' Science Fiction collections, including vintage "pulp" magazines and items documenting the well-known DragonCon convention.
In conjunction with the exhibit, a series of scholar conversations were created and debuted on WREK and in podcast form.
Celebrating 60 Years of Black Excellence at Georgia Tech
In conjunction with the 60 year anniversary of African American students enrolling at Georgia Tech, the Archives' curatorial team collaborated with members of the Black Alumni Organization's alumni historian to develop a display of collection materials related to this important chapter in the Institute's history.
With limited on-campus activities in spring 2021, the annual Clough Art Crawl looked like it would have to be canceled. However, the Library did not want to give up on this fantastic opportunity to share the work from talented members of the community.
Public Services Associate Tyler Jones developed an app to take the project virtual for the COVID-age. In total, 185 works were exhibited. The digital experience meant the exhibit was open to a larger group of people than ever.
The exhibit can be viewed at: https://artcrawl.library.gatech.edu/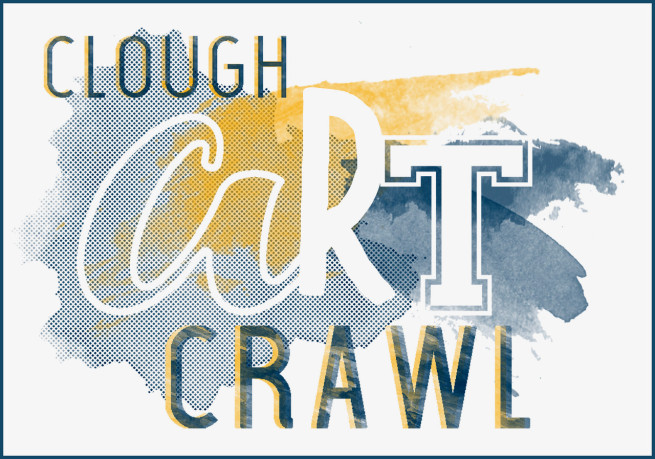 In 2021 portfolio engagement continued to improve to support the Library's Mission and Vision. Projects implemented during 2021 include additional services in the Multimedia Studio, the Recording Studio, the hiring of an Artist in Residence, and bringing back our discipline-focused and Science Fiction Collections. 
By mapping current services and new projects to the Institute and the Library plans, we are able to clearly show our impact to the students, faculty, and staff that use the Library. 
Thirty-six new project ideas were submitted, and more employees in the Library engaged as project managers to implement these ideas.