Georgia Tech Library launches companion website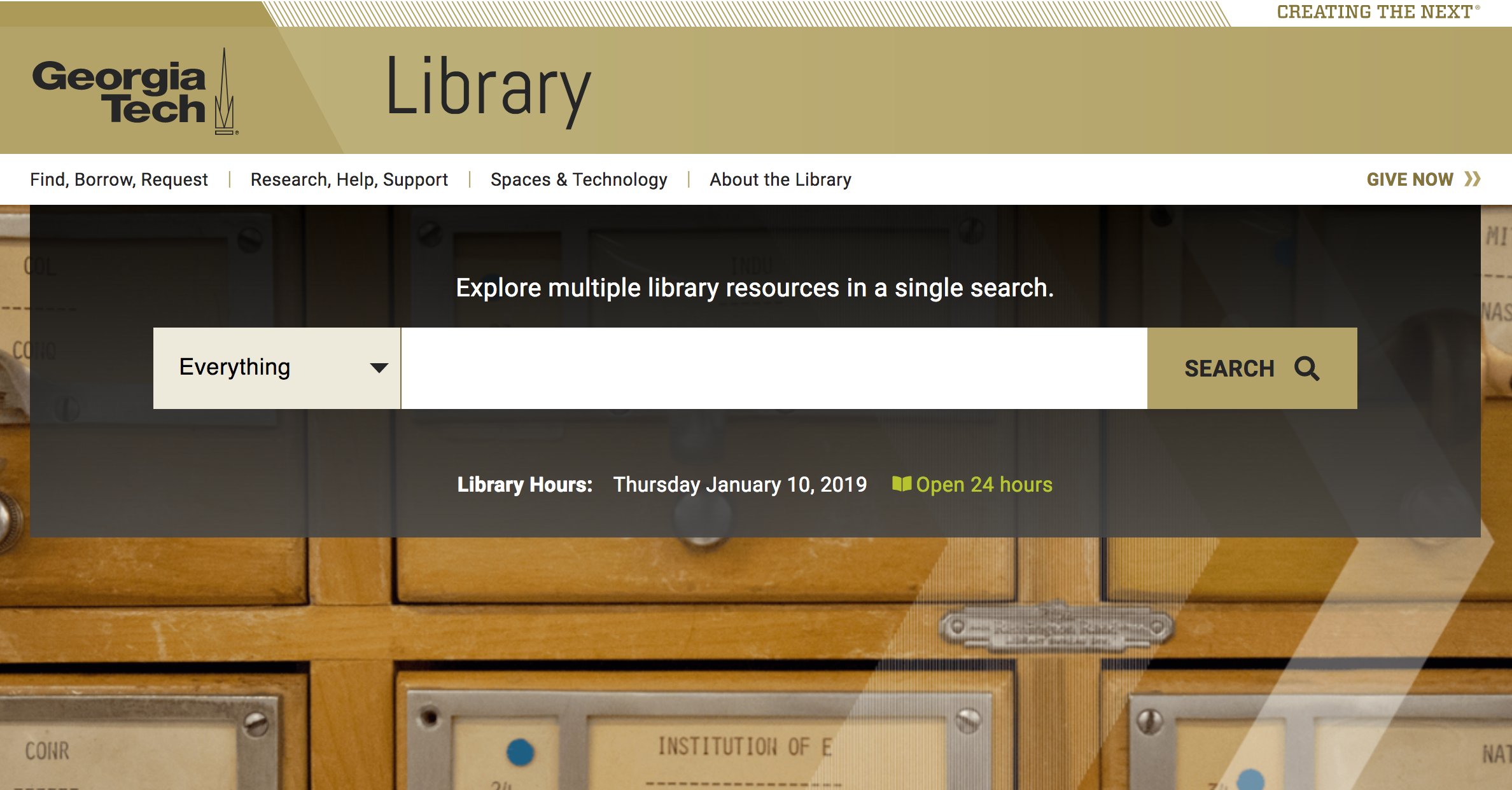 The Georgia Tech Library launched an expanded, fully integrated website Jan. 10 as a companion to its recent Crosland Tower opening.
The mobile-first site features a simplified, user-focused design, a single super search of the books, media, articles, journals and the site itself, 24-hour chat functionality and streamlined access to the world-class expertise and resources of the Georgia Tech Library. It is also the first site to conform the Institute's new web design guidelines.
The site, more than a year in the making with partners Mediacurrent, completes phase one of the Library's digital transformation -- part of the ambitious Library Next program.
"With a physical presence as beautiful and functional as Crosland Tower, we knew we needed a digital companion that was as good, if not better, at delivering service," said Heather Jeffcoat, Technology Program Manager and Web Services Librarian. "While we're only at phase one of this digital transformation, I believe we're well on our way to fulfilling this promise."
The site overhaul comes just four days after the Library opened its doors in the refurbished Crosland Tower. The tower, closed for renovations since January 2016, features eight stories of archives, classroom, study, and studio space for Tech's student and faculty. Included are spaces and technology for data visualization, high-performance computing, multimedia services, collaboration, and iterative design.
The new site and building reflect a complete overhaul of the Library's collections and business model. In 2016, nearly all of the million-volume physical collection was moved into preservation quality storage at the Library Service Center, a $26-million facility built through a public-private partnership with Emory University. Students and faculty now request the materials online for delivery the next day.
The ultimate goal? To become the model research library of the 21st century -- connected, responsive to sea changes in student and faculty academic needs and dedicated to the stewardship of analog information in a digital age.
For more information on this incredible transformation, visit library.gatech.edu or join our conversation on Facebook, Twitter or Instagram.