Access, Outreach, and Action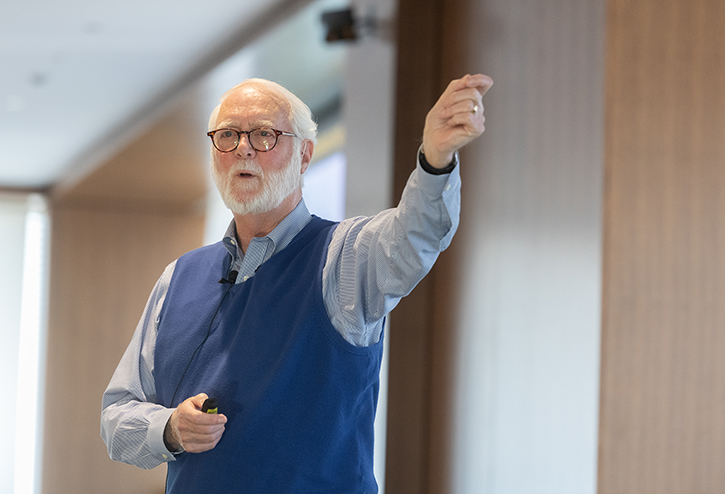 President Emeritus and former Secretary of the Smithsonian G. Wayne Clough brought a pragmatic approach to information access in his Jan. 30 talk in the Library's seventh floor reading room.
"Digitization of collections is here, and it will never stop," he said. "It's an amazing resource, of course. There's a lot there, but what do you do with it?
"Does it just sit there? And how is it ever going to reach us?"
These are vital questions in a world where more than 2.5 trillion bytes of data are created every day, drowning most people in a sea of information, he said. The results include a growing distrust in science, the phenomenon of fake news, and a loss of trust in public institutions.
Clough found answers to these questions during years of building and maintaining the digital enterprise for some of the world's most important natural, artistic, engineering, and technological collections.
"Take your knowledge base and give it to the public," he said. "Take the collections and help teachers make lesson plans."
The promise of museums – and the education of society as a whole – was something close to the hearts of the founding fathers, Clough stressed. Even now, nearly 250 years later, it still goes back to the philosophy of George Washington regarding the importance of education to democracy.
"Democratization is achieved by reaching out — not sitting back, hoping it will happen," he said.
Clough's talk, organized by the Library Faculty Advisory Board, is one of several events taking place in the Library's new spaces, as word gets out about the innovative, reimagined Crosland Tower and the ongoing renovation that is transforming Price-Gilbert, scheduled for completion in Summer 2020.
"This event is really one of the first that's been organized to celebrate the return of a whole library to campus," said Dean Catherine Murray-Rust. "We hope it will be the first of these kind of events that will be focused on academics and the role of libraries in our community."